Ghost Recon, also known as The Ghosts, formerly known as Delta Company, 1st Battalion, 5th Special Forces Group, is a Tier 1 Joint Special Operations Force of the United States Army.
As with the rest under Joint Special Operations Command, the missions conducted by the Ghosts are kept highly classified. It is shown that all Ghost teams have multiple designations and Ghost Recon is administrated and commanded by JSOC, participating in highly classified covert operations.
History
[
]
In 2014, the H.A.W.X. squadron led by David Crenshaw were diverted to provide air support for Scott Mitchell and his team operating in Mexico. Throughout 2021, Crenshaw later worked with Mitchell's team in Brazil, and again in the Appalachian Mountains during the Artemis Global Security crisis.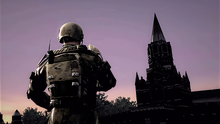 In near future, a Ghost team deployed to Africa to rescue Crenshaw from the insurgents with support of the H.A.W.X. squadron's AC-130 gunship piloted by Major Alex Hunter and Rebecca Walters and took him aboard a Navy frigate, U.S.S. Marshall, where he would be treated for his injuries. During NATO's counter-attack against Russian-held Norway under the name of Operation Triton, the Ghosts landed on the shore with support of Lieutenant Colin Munro from the Royal Navy. Soon after, they worked with H.A.W.X. once again to unsuccessfully capture the ultra-nationalist leader, Aleksandr Treskayev, in the Moscow Kremlin.
At one point, a Ghost team searching for a nuclear weapon in Russia was covered by HAWX2 and they successfully completed their mission.
References
[
]
External links
[
]